Car Wreck Injury Lawyer -Jim Desmond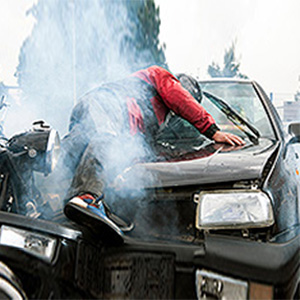 My name is Jim Desmond and to put it plain and simple, I am an experienced car wreck injury lawyer that you can contact directly on my phone for immediate legal advice. Why do I use my phone? So you can talk to your injury lawyer. To be clear, this number (502) 609-7657, rings directly to me.
I want to know about the facts of your car or motorcycle wreck personally. I don't want to hear about your case from a paralegal, case manager or an "investigator". I am your personal injury lawyer. You should be able to reach me directly and get your questions or concerns answered. By the way, I left Becker Law Office in 2005 and started my own legal practice in June of 2005. Since day one, my phone has been all over the internet and the only number my law firm has used.
I go by "Jim". Fancy names and fancy offices are just not my style. I have a simple philosophy in regard to car wrecks, let's just get to the crux of the matter and figure out if you have a personal injury claim, which insurance companies you can recover from and whether we can keep you out of a lawsuit.
A lawsuit is a long, drawn out process that I don't want my injured clients to experience unless they have to. I have practiced personal injury law, with a concentration on car wrecks, for over 20 years in Louisville, Kentucky. I handle automobile accidents all the way from Bowling Green, Kentucky to Evansville, Indiana.
In my practice, I have handled everything from the defense of police officers to recovering the medical expenses of a motorcyclist to ERISA claims involving health plans. My legal practice has included personal injury cases involving truck accidents, slips, falls, dog bites and motorcycle accidents. I am proud to say that a lot of the car accident victims I have helped over the years have referred their injury claims of their family and friends to my law practice.
The Better Business Bureau
Serving Louisville, Southern Indiana and Western Kentucky
Is Pleased to Recognize
Desmond Law Office, PLLC
As a 10 Year Accredited Business
Continuing the BBB Mission Through Membership Since 2006
November 2016
If I were like every other car wreck injury lawyer on the internet or on television, this is the part wherein I would tell you about my past cases, and the amounts I have recovered for my clients, so you might assume that I can do the same for you. However, in my opinion, that is not how I earn your trust.
If you are reading this, chances are you or your family member was involved in an automobile accident or a motorcycle wreck and are facing legal issues that you have never considered before. Very simply, I understand that! I understand the mere fact that you think you need an attorney means that you are facing issues that can be intimidating.
If you are consulting a car wreck injury lawyer, or any kind of attorney, you are needing information about a legal process that you know nothing about. This is why I give you my phone so you can contact me directly and get your questions answered immediately from an experienced, car wreck injury lawyer, not a paralegal or a secretary.
To tell you how strongly I believe in this principle, I have even answered my phone when I was on vacation in Disney World with my kids. Because I took 15 minutes to explain to my future client how I could help him even though I was not in Louisville, Kentucky at the time, he waited until I returned from Florida three days later before doing anything else with his personal injury claim. And guess what? During the rest of my vacation, I was also there to answer his questions. It takes me five minutes or less to answer a phone call or a text message from a client. When a client trusts me with his/her injury claim, you are damn right I will pick up my phone and make sure he is reassured that his claim is being handled efficiently and properly.
I LIKE CAR WRECKS AND MOTORCYCLE CLAIMS.
When you talk to me, you'll see and hear my legal experience with both car wrecks and motorcycle injuries. I enjoy what I do. Many clients have commented to me that they can see the wheels working in my head contemplating the twenty different ways we can resolve the issues presented by your personal injury claim. We want to resolve your personal injury claim in a quick and efficient manner if possible.
When I started my legal career as a personal injury attorney, I worked with the Becker Law Office which was wonderful training. I got to handle more automobile accident cases than your average lawyer. However, I don't agree with the business model of those injury lawyers who advertise on television. Those injury lawyers can afford to spend to hundreds of thousands on television advertising across several states. As a result, they have to use paralegals and "case managers", and fewer lawyers, to handle a larger than average caseload. I am sorry but if I am going to pay a car wreck injury lawyer 33% or more of my personal injury claim, you can be sure that I want to deal with lawyer and not get second-hand information from a secretary or a paralegal. If I am demanding this kind of legal service and I work in the area of personal injury law, why shouldn't you do the same?
As a car wreck injury lawyer, I want to get the facts of your automobile accident directly from you, not through second-hand information delivered through a paralegal or secretary. After all one small fact, can drastically change how we proceed with recovering on your personal injury claim.
Moreover, I want to know that I have alleviated your concerns as they pertain to your medical treatment, the facts of the car wreck and how we are going to recover on your pain and suffering claim. I have handled personal injury claims for family and friends. Also, I have experienced death of family members and friends. So I understand how it feels to lose someone. Despite what people may say, time does not heal all wounds but rather, we just learn to live with some wounds over time. If someone close to was killed in a car wreck or a motorcycle accident, the last thing you should have to worry about it the legal steps you should or should not take. Nothing we do will ever bring that person back and the legal system is wholly inadequate for handling such a loss. However, I will do my best to take the legal concerns from you so that you can concentrate on what you need to focus on; which is your remaining family and learning to go on without that someone special.
LASTLY, YOU HAVE A LEGAL TEAM WORKING ON YOUR BEHALF.
If I ever find a case is too complicated or involved for just one car wreck injury lawyer or personal injury attorney, I do not hesitate to bring in another attorney to act as co-counsel. The attorney's fee stays the same. You just have two injury attorneys working on your behalf instead of one.
I know good attorneys who handle different areas of the law, (e.g. Worker's Compensation, Nursing Home Neglect, Legal Malpractice). When a personal injury claim calls for it, I don't hesitate to pull them into the lawsuit. After all, this case is about you, your medical expenses, your medical treatment and the injuries you sustained in this car wreck or motorcycle accident. When your personal injury claim is closed, the insurance company will move onto the next personal injury claim. You, on the other hand, have to live with a permanent impairment from your injuries and the adverse effects it had on your family. I understand this. I won't promise you I can fix these adverse affects. I can only promise you that I will do my best to help you get back on your feet and minimize the negative effects this car wreck had on your personal life. I'm proud to say that I'm a car wreck injury lawyer.
Call Jim Desmond of the Desmond Law Office at (502) 609-7657 or contact the law firm by email.
Bar Admissions
Kentucky, 1993
Indiana, 1994
Education
University of Kentucky College of Law, Lexington, Kentucky
Indiana University, Bloomington, Indiana

B.A. – May, 1989
Major: Psychology
Classes/Seminars
Instructor, Legal Research and Business Law, Sullivan College, 1996
Instructor, Legal Research and Business Law, Kentucky College of Business, 1994
Professional Associations and Memberships
Louisville Bar Association, Member
Kentucky Academy of Trial Attorneys, Member
The American Association for Justice, Member
Past Employment Positions
Attorney, Becker Law Office, 2001 – 2005, Handling Personal Injury Claims
Metal Sales Manufacturing, Yellow Ambulance and Yellow Cab Company, Corporate Counsel, 2000 – 2001, Handling legal matters for a self-insured, motor carrier fleet
Litigation Professional, Sharps & Associates, 1997 – 2000, Handling ERISA subrogation claims on behalf of health insurance carriers
Clark, Ward & Cave, Associate, 1995 – 1997, Defending Insurance Companies from Personal Injury Claims
Hollis Searcy & Associates, Associate, 1994 – 1995, Solo, general practice of law
Judge William Graham, Franklin Circuit Court, Clerk, 1993 – 1994, Assisting a Circuit Court Judge with Memoranda, Pleadings and Opinions