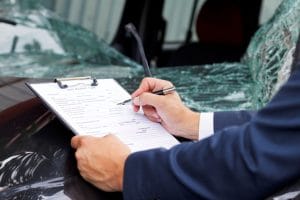 In twenty years of practicing law, there have only been two times wherein I have viewed photographs from a car wreck that have truly grossed me out.  The second time was this week and was from a client whose open wound took about 9 months to heal.  While the at-fault driver only had the state minimum of $25,000 per person and that amount was tendered over a year ago, the case is still ongoing as we have two insurance companies that we are seeking underinsured motorist benefits from.
The insurance companies are arguing that they are both only responsible for a pro-rata share of my client's personal injury claim.  I am arguing in response that the value of the injury claim exceeds the limits of both the insurance policies.  My client is still treating and the Statute of Limitations, the time we have to file suit, is not an issue. Therefore, if I cannot convince the companies to tender their limits, we will simply wait to settle the underinsured claims until my client's treatment is finished.
Just as I preached about previously, the fact that the underinsured motorist insurance is there is why this case is still ongoing and the reason my client has a chance to recover the full value of her personal injury claim.  To put things in perspective, she was a passenger in the car and she has not returned to work since the wreck. Further, her medical bills alone are well in excess of $100,000.  Having the right type of insurance coverage before the car wreck makes all the difference in the world.