Semi-Trailer Tractor Accidents in Kentucky and Indiana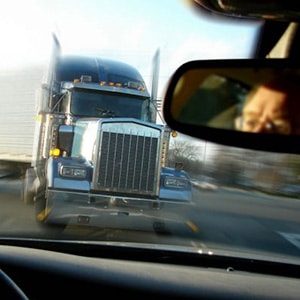 A truck accident that results in injuries is one of the most complex types of legal cases, and you need an experienced injury attorney to represent and protect your interests. As an experienced personal injury attorney in Louisville KY, I have been helping clients who have been injured in semi-tractor trailer accidents. I have often told you in this website and my blogs about uninsured and underinsured motorist coverage so as to make sure my clients have the means of recovering the value of their claim(s). However, in cases involving semi-tractor trailers, we don't have those concerns. Companies own tractor-trailers with large assets and they are required by Federal law to carry insurance.
Depending upon the size of the tractor-trailer and the commodity they are shipping, chances are they have over $750,000 in insurance coverage. But stop and think about that for a moment. If you run a trucking business and you have hundreds of
trucks on the road every day, chances are your drivers are going to be involved in multiple wrecks every year. Also, because of the size of the truck, the injuries sustained by the driver and occupants of the car tend to be substantial and may involve death. My point is that as soon as the trucking company knows of the wreck, they are starting to investigate the claim with experts known as accident re-constructionists. These experts, because there is so much at stake when it comes to a large personal injury claim, are immediately looking for ways to defend the trucking company by claiming that you were driving without headlights, too fast, on your phone, etc.
On a recent trucking case, I am involved with, we already had our accident reconstructionist and investigators looking for a videotape of the wreck within the first few days following the wreck. Before I had even heard from the attorney for the insurance company, I heard from their experts who were doing a similar kind of investigation. In other words, especially with a case involving a tractor-trailer, don't take anything for granted and don't assume any insurance company is going to admit fault when a lot of money could be at issue. Most car wrecks involving tractor-trailers tend to involve catastrophic injuries and maybe even multiple claims for wrongful death. As a result, they require a lot of special attention fast to preserve any evidence that might exist at the accident scene.
While a tractor-trailer company has "deep pockets" and the assets available to recover the full value of the personal injury claim, they are going to vigorously defend any personal injury claim asserted against them for the same reason. So make sure you find someone who is qualified to handle a large case such as this, particularly a truck accident lawyer. We have experienced and qualified Kentucky truck accident lawyers working at our office who offer Free Consultation to clients.
Factors Personal Injury Lawyers Must Consider When Evaluating a Semi Truck or Tractor Trailer Claim
For cases involving tractor-trailers, an attorney has to look for multiple violations of Federal and/or State law to advance his client's case. Some of the common questions asked by a Kentucky auto accident attorney will involve the following:
Did the driver have a CDL?
Was the driver rushing to make a deadline?
Did the driver have a history of car wrecks?
Was the driver under the influence of stimulants, alcohol or other drugs?
When was the driver's last rest?
Was the driver distracted by a phone?
Was the driver fatigued?
When was the last time the trucking company inspected the safety equipment on the tractor-trailer?
Did the safety equipment of the tractor-trailer operate property?
Was the trailer property loaded?
What was the safety rating provided to this trucking company by the U.S. Department of Transportation?
Was the tractor-trailer properly maintained?
Was the semi-tractor trailer driver texting when the accident occurred?
Driving Logs and the Role They Plan in Truck Accidents
Truck drivers are governed by extensive regulations issued by the Federal Motor Carrier Safety Administration. These regulations are designed to keep you, the average motorist, safe on the highway. Part of my job, as your personal injury lawyer, is to determine if these regulations were violated and if these violations played a role in causing this accident. For example, truck drivers are required to keep driving logs to make sure that they have not been driving longer than they are allowed. It is the job of an INJURY attorney to inspect these logs and make sure they comply with gas receipts, delivery receipts and black box data.
Semi Truck and Tractor Trailer Cases Usually Involve an Accident Reconstructionist
An accident reconstructionist is an automotive expert who looks at the physical evidence at the scene of an automobile accident, the testimony of the driver, witnesses' statements, black box data from the motor vehicles and remaining physical evidence at the accident scene. He then forms an opinion and issues a report with his opinions which can ultimately be placed into evidence at trial. Many times an accident reconstructionist is a retired police officer with specialized training in regard to the bio-mechanics of a car wreck. Typically, I have used reconstructionist to inspect an accident scene, and the vehicles involved in the accident, while the physical evidence can still be preserved.
Contact a Kentucky & Indiana Truck Accident and Injury Attorney
If you or someone you love has been injured in a Kentucky or Indiana truck accident, contact me for a free consultation at (502) 609-7657. If you are unable to travel I will come to your home, work or the hospital to visit with you and discuss your case. I have years of experience practicing as a personal injury attorney in Louisville KY. Whether you are looking to get in touch with a Kentucky auto accident attorney or a truck accident lawyer, just give us a call and our accident lawyers and attorneys will be ready to serve you.