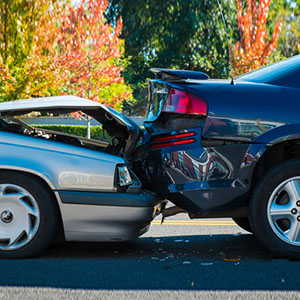 Underinsured Motorist Insurance Can Help when the Settlement is not Enough
Why is underinsured motorist insurance so important in Kentucky and Indiana?  I had a personal injury case settle the other day wherein I had represented my client previously.  As much as we had discussed at length the particulars of his personal injury claim, I had obtained his authority to accept the settlement offer for his personal injury claim and used his old car wreck to explain the current situation.
It was clear that he did not understand why he was not receiving more money from his settlement.  In this circumstance, it was what Kentucky and Indiana law refer to as an Interpleader case. Underinsured Motorist Coverage (UIM) would have really helped this client.
For my client's car wreck, there were five people injured by one person, a.k.a. the torfeasor, who had the state minimum in insurance coverage, $25,000 per person and $50,000 per accident.
This meant that while the tortfeasor's insurance carrier, State Farm, was agreeing that their driver was 100% at fault for the car wreck and was willing to pay their entire policy limit of $50,000, the five people with personal injury claims had to agree on how to split the $50,000 in coverage.  To make matters worse, all these individuals were represented by experienced personal injury lawyers and all of us were arguing that our client's injury claim was worth more than the next guy's claim.
If an agreement would not have been reached, the $50,000 would have been deposited with the Court, (the Interpleader part of the case), and a Judge, after hearing evidence, just as if the claims proceeded to trial against the tortfeasor, would have to decide how to split the insurance proceeds.  Typically, this ends up being a lot of extra litigation expenses and unnecessary delay.  Ultimately, State Farm hired their own attorney to negotiate settlements for each injury claim, to which all five claimants had to agree to, thereby resolving these claims in full.
So in this situation, are you, an injured person from a motor vehicle accident, just out of luck and required to take just what you can get?  No!
The best way to protect yourself in this situation is to have on your own automobile or motorcycle insurance policy underinsured motorist coverage.
Had there been underinsured motorist coverage on my client's vehicle, I could have agreed to the figure State Farm offered and then potentially recovered more funds from his own automobile insurance carrier. The fact that he would not have recovered the policy limit of $25,000 per person would NOT prevent him from making an underinsured motorist claim against his own automobile insurance.
How Can Underinsured Motorist Insurance Protect You?
To take this example a little further, if my client had ample underinsured coverage on his own automobile insurance and there had been 30 people involved in this wreck, we could have settled his injury claim for $500, for example, and still have recovered more money from his underinsured motorist coverage.  The benefit to my client is that he has the option of avoiding extensive litigation, over a limited pot of money, and instead could concentrate on prosecuting his claim against his own insurance carrier wherein there is ample insurance coverage.
While I understand not everyone wants to use their own automobile insurance coverage for a wreck that they did not cause, my job as a personal injury lawyer is to give my client options so as to maximize their ability to recover on their personal injury claim.
Once my client has their options explained to them, they can choose how they want to proceed.  However, this option, created by the presence of underinsured coverage, is only available if you have this on your own automobile or motorcycle insurance before the wreck ever occurs.  When a motor vehicle wreck happens, it is like a photograph is taken.  Nothing can be taken out of or put in that photograph no matter how severely someone is injured.
The Driver May Not Have to Pay Your Bills
Further, there is nothing in Kentucky or Indiana law that guarantees you the at-fault driver has enough insurance to pay your medical bills from a car wreck, much less your claim for pain and suffering.  If your right arm has to be amputated because of the injuries you sustained in a motorcycle wreck and the at-fault driver worked for U.P.S., then the value of that personal injury claim probably exceeds $1,000,000.  However, if you suffered that same injury and the at-fault driver was driving a 1980 Chevrolet, chances are they are insured by Safe Auto up to $25,000 per person and have no assets that make it worthwhile to sue them beyond their insurance coverage.
Please Consider Underinsured Motorist Insurance
The reality, as demonstrated by this example, is that the value of a personal injury claim really depends upon the amount of insurance coverage available to the injured party.  Therefore, as a consumer, you can protect yourself by creating an additional source of recovery by having at least $100,000 per person of underinsured motorist coverage on every automobile and/or motorcycle insurance policy in your household.