Episode 10:  Louisville personal injury attorney Jim Desmond has spent years representing people injured in motorcycle accidents.  This episode continues the discussion on motorcycle accidents from Episode 9.  He'll now discuss issues related to filing a Kentucky motorcycle accident lawsuit.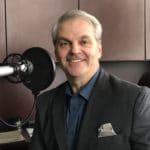 What Are the Next Steps at the Hospital?
If you don't have health insurance, ask to speak with the financial counselors at the hospital.  They may be able to help you find sources of coverage.  It's important that you're able to treated.  More importantly, you'll be able to get the negotiated rates between the hospital and the insurance company.
Jim Desmond will begin looking for any/all sources of insurance coverage, including underinsured or uninsured motorist coverage to help his clients.  Motorcycle wrecks usually involve extensive injuries, so the medical bills and lost wages are going to be substantial.
Motorcycle wreck cases test the experience and knowledge of most attorneys.  Attorneys want to protect their clients from overwhelming financial burdens, even when the collision wasn't their fault.
When a Lawsuit Needs to be Filed
Ideally, your case will be negotiated to a fair settlement.  If that can't be reached, it may be necessary to file a lawsuit.  This is going to extend the timeline of getting your case resolved and financial reimbursement.
As the lawsuit proceeds, the process of discovery will begin.  The depositions will then be scheduled.  A mediation is usually scheduled.  It's another chance for the two sides to reach a settlement.
Statute of Limitations
In Kentucky, you have 2 years from the date of the accident, or 2 years from the date of the last no-fault payment (i.e. PIP) to file your lawsuit.  If you miss go beyond this window of time, you can't file.  With a motorcycle accident, there is often no PIP coverage involved, so the extra time may not be available to file the lawsuit.  For this reason, you need to make sure you understand the timeline.
Policy Limit Offers with Motorcycle Accidents
If you have a carrier offering the policy limits for the at-fault driver, it may cause trouble for you when pursuing the underinsured claim.  There are important processes that must be followed.  Again, it's another reason you should hire an attorney.
What Happens if They Appeal the Verdict?
Again, a trial will significantly increase the time it will take to get your case resolved.  An insurance company has the right to withhold any payments until the case is resolved.  Even if the verdict has been rendered, if the other side decides to appeal the decision, additional time has just been added to the timeline.  It's a risk inherent in taking a case to trial.
For more information about Louisville Personal Injury Attorney Jim Desmond, visit www.AttorneyDesmond.com.
Important Disclaimers:
The information provided on this podcast is for general informational purposes only.  It should not be construed as legal advice and does not constitute an attorney-client relationship.  You should seek the advice of an attorney for guidance related to your specific situation.  I am only licensed in Kentucky and Indiana, so the general advice provided may not apply outside of those states.
This podcast maybe freely shared, but may not be the modified or edited in any way.  This is an attorney advertisement.   Principal office is located in Louisville, KY.  Co-host Jim Ray is a non-attorney spokesperson.