In a recent podcast episode, I discussed the law concerning motorcycle wrecks at length.  It's so important that I took my outline for that podcast and I elaborated on it below.  I hope this information assists you and don't hesitate to call me at 502-609-7657 if you have concerns about your motorcycle accident.
Personal Injury Law for Motorcycle Wrecks
Usually, when someone is involved in a motorcycle collision, there are high damages (e.g. medical bills and lost wages) and insurance coverage on that at-fault driver that is inadequate. One of the biggest responsibilities of a personal injury lawyer handling a motorcycle accident is addressing how the medical bills from a motorcycle wreck are going to be paid.  After all, the medical bills alone may exceed the applicable insurance coverage on the at-fault driver.
Keep in mind that the job of a good personal injury lawyer is not only to maximize how much he can get you with right hand BUT ALSO and EQUALLY IMPORTANT to minimize the deductions from your personal injury settlement with his left hand (e.g.  health insurance liens, attorney's fees, unpaid medical expenses).  A good personal injury attorney has both these roles.  It's most clearly evident in Motorcycle accidents.  It's one of best examples of the dual roles a good personal injury lawyer must accomplish.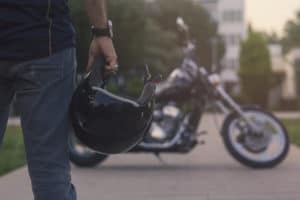 Before the wreck
Make sure you get UM and UIM coverage on your motorcycle policy, not just the automobile policy.  PIP coverage is not standard with motorcycle policies but it can be bought as optional PIP coverage though.  Always, assume that there is an exclusion wherein your car insurance policy will not apply to motorcycle wreck.  Typically, there's an exclusion (a provision in that long insurance policy that says we won't cover you while doing something). A common one is a coverage exclusion while you are operating a motorcycle or if the vehicle is regularly owned and operated by you, but not listed in the insurance policy. We may look at your automobile insurance policy for further insurance coverage if you were severely injuries; however, we want the automobile policy to be a fallback position.
At the Crash Scene
Motorcycle wrecks often involve EMS transportation to the Emergency Room.  Plan on having your health insurance cover the medical expenses because of lack of PIP coverage on your motorcycle. Yes, your health insurance has a lien against your settlement and their subrogation claim will need to be addressed at the time your personal injury claim is settled.
If friends or family are present at the accident scene, have them get names of witnesses, take photos (of the scene, the vehicles, bruises and cuts) and look for cameras.  This will help to preserve valuable pieces of evidence to be used in negotiating with the insurance adjuster and/or as evidence if the claim proceeds to a jury trial.
I will meet with a client at the Hospital or at Home
When I meet with a potential client at the hospital, our discussion usually involves a lot of speculation because I don't know the details of all the applicable, insurance coverage. It is a little bit like a doctor warning of all possible outcomes from a surgery (i.e. because unknown liability limits.
I will get the Police Report
I use http://www.buycrash.com to download police report off the internet.  One thing I immediately look at is which driver does the Officer list as the number one driver.  On the police report, the at-fault driver, according to Officer's opinion, is usually the number one driver.  Remember Kentucky is a "pure comparative fault" state, so a personal injury claim may still exist even if the majority of fault is placed on the motorcycle rider.
I will contact Their Insurance Company
I will open a claim with the insurance carrier for the at-fault driver.  As your injury attorney, I may have to run the license plate with the County Clerk to track down insurance on the at-fault driver.  Insurance coverage can exist through the driver or owner of motor vehicle.
Final Thoughts
As you can see, dealing with medical bills from a motorcycle wreck is extremely complex.  There are many factors to consider.  Probably the most important factor is does your attorney have extensive experience handling motorcycle accident claims?
If you'd like to discuss your specific situation, you can call me on my cell phone at (502) 609-7657.  I understand how to effectively represent victims of motorcycle collisions.  I've been doing it for many years.