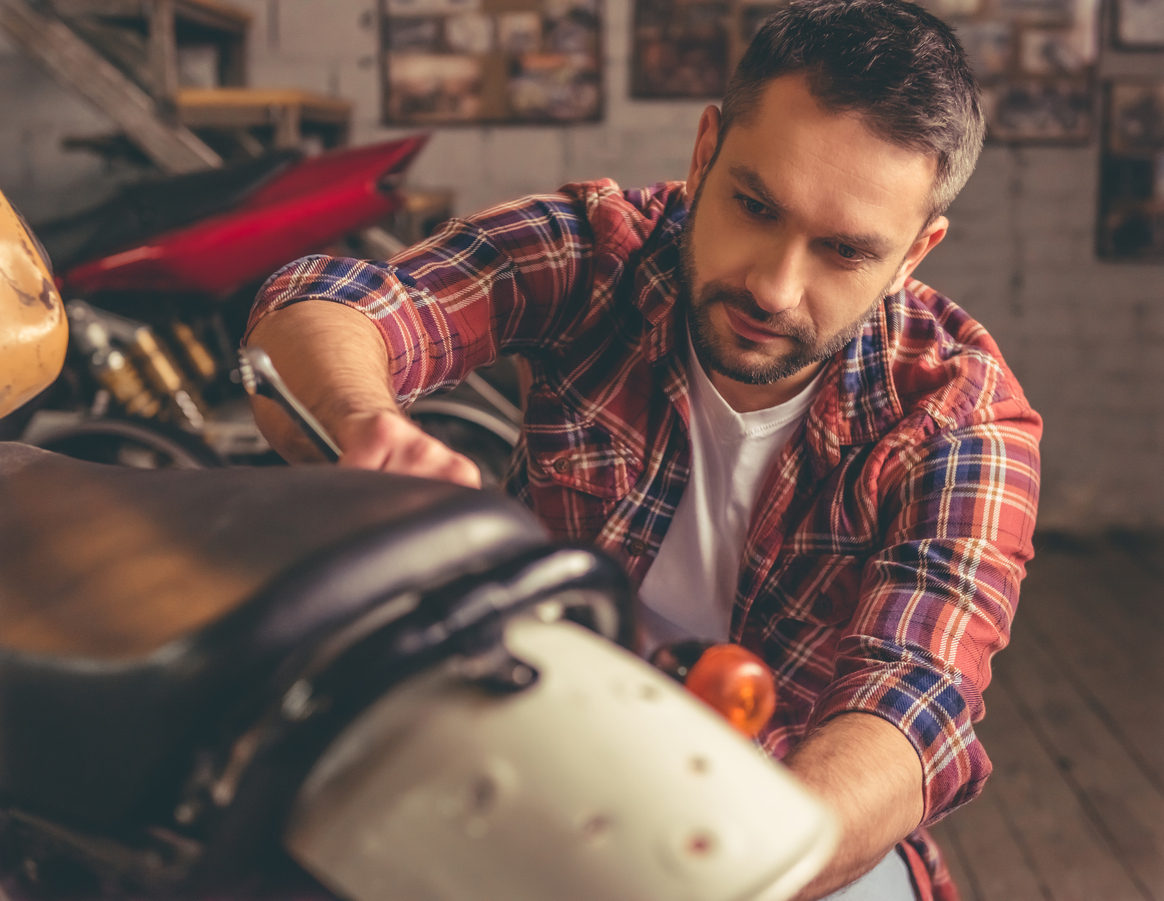 Spring has definitely arrived in Kentucky.  Summer will be here before you know it.  Is your motorcycle ready for the road trip?  If you haven't had time to get your bike out of the garage, remember that there are a few things you should consider.
Many of the motorcycle training programs mention the acronym T-CLOCS.  It was created by the Motorcycle Safety Foundation.  In a minute, I'll suggest you add a letter to that abbreviation.
T-CLOCS is a simple system to help you prep your motorcycle, especially if it's been in storage for the winter.  It's important to get your motorcycle ready from a mechanical standpoint.
Tires – wear and tear from last season, and the changes in temperatures can be harsh on your tires. Make sure you check them carefully for tread-issues and cracks.  If they look damaged, spring for a new set.  It could be cheap compared to the dangerous risks of riding on worn tires.  If they look okay, make sure they're properly inflated.
Controls – Just like the tires, your hoses may have cracked over the winter. Inspect your cables and hoses.  This also goes for your pedals and throttle.  Everything should work smoothly.
Lights – Just like a car, you need to make sure your turn signals and brake lights are in working order. This is also a good time to ensure your headlight is still bright and on-center. Shine it against the garage door to test both your low- and high-beams.
Oils & Fluids – Your motorcycle is going to take you to work, down county roads and maybe across a few states this year. Change out your fluids (or at least top them off).  Switch out the air filter and change your anti-freeze.  Hopefully you'll be putting your bike to the test, make sure your fluids are up for the challenge.
Chassis – It's the little things that can cause the biggest problems. Check for small cracks.  Make sure the handlebars are tight as well as the forks.  Wrap it up by tightening any loose nuts or connectors.
Stands – Check to see if the stand is well-lubricated. It's going to take some stress each time you park.  Don't make it any more difficult when the day's ride is done.
The last thing I'd really like to stress, is adding an "I" to T-CLOCS.  It stands for Insurance.  A lot can change in a short amount of time.  Is your policy up to date?  One part of your policy to pay close attention to is your Uninsured Motorist and Under Insured Motorist coverage (UM/UIM).  I've written extensively about insurance coverage for motorcyclists.   This is an important part of getting your motorcycle ready.
Earlier this month, there was a motorcycle fatality in Louisville.  A car turned left, in front of an oncoming motorcycle.  If the motorcyclist's policy had adequate levels of UM/UIM coverage, the family may have adequate insurance to cover medical bills and damages, regardless of the amount of coverage carried by the errant driver.
Finally, a last piece of advice.  Whether you've ridden for years, or just bought your new bike, remember to take it easy on our Kentucky roads.  This is especially important as you're getting back into the rhythm.  Your reaction speed is going to be a little sluggish.  Take time to let your body reacclimate to the road.
At the same time, consider the fact that the car and truck drivers also need a little time to get used to sharing the road, again.
Have a great time and enjoy the many trips ahead of you this year.  Just be sure to get your motorcycle ready before you hit the road.  It'll make a major difference.