Episode 6:  Louisville automobile accident attorney Jim Desmond continues the discussion about the accident claim process.  He's going to explain important issues related to getting back to normal, after a car wreck.  This discussion began in Episode 5.
Assuming you now have the police report, you'll determine what company is actually insuring the automobile.  This might take some effort.  Once a claim in opened, they issue a claim number.  It's important to include that number on any communication.
It's possible that you and the at fault driver might be covered by the same insurance carrier.  You need to understand your rights.  Get documentation on your car's fair market value.  They might try to low-ball the property damage claim.  The police report, photographs from the accident site and other documentation will better position your claim.  Be mindful of your tone when speaking to the adjuster.  The reasonable person typically has a good chance of getting to a fair settlement.
Permissive Use
The doctrine that if someone gives you their keys to use their car, you should be covered by their insurance.  Your own coverage is secondary.  However, if you've been driving their car on a regular basis, without being listed as an additional insured, the insurance company may be able to fight the claim.
What if I Don't Want to Handle the Case Myself? 
Some people don't want to do all of the legwork after a car wreck.  As an attorney, Jim Desmond is happy to handle the details on your behalf.  It's helpful, however, for the client to have a general understanding of the process.  By getting an attorney involved earlier, some of the process can be made more efficient because attorneys file these claims all the time.
Kentucky is a pure comparative fault state.  If the other side successfully argues you are partially at fault, they now have a claim against you.  Even if the reason you were in the accident is 85% the other person's fault, you may still be on the hook for 15% of the damages.  It's not about what actually happened.  It's about what either party can actually prove, after a car wreck.
Determining who had the right of way is a key factor in establishing which driver is at fault.  Many collisions occur when pulling into traffic, turning left across on-coming traffic or some other action causing a rear-end collision.  People instinctively develop a presumption of what caused the wreck.  This is why the accident-site photos, police reports and other details discussed in Episode 5 are so important.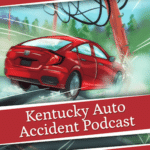 This Happened This Week
What happens if your daughter or son is driving your car out of state and has a wreck?  The laws of the state in which the car wreck occurred will take priority.  However, the insurance coverage you have from your own state will travel with the car.  For instance, even if the other state doesn't have a no-fault system, your Kentucky no-fault benefits will still apply.  It's a good idea to make sure your child is listed as an insured driver.  It may make sense to name your child on your policy, even if he/she only lives with you part of the time.
For more information, visit https://attorneydesmond.com/.
Important Disclaimers:
While this podcast addresses what to do after a car wreck, the information provided on this podcast is for general informational purposes only.  It should not be construed as legal advice and does not constitute an attorney-client relationship.  You should seek the advice of an attorney for guidance related to your specific situation.  I am only licensed in Kentucky and Indiana, so the general advice provided may not apply outside of those states.
This podcast maybe freely shared, but may not be the modified or edited in any way.  This is an attorney advertisement.   Principal office is located in Louisville, KY.  Co-host Jim Ray is a non-attorney spokesperson.