Episode 12:  On today's episode, Jim Desmond discusses motorcycles and COVID-19. Right now, in the world, people are struggling with let's face it, Cabin Fever. With nice weather happening, motorcycle riders are taking full advantage. The biggest concern is now there may be drivers with no insurance or less insurance coverage than before due to lack of working or even lack of driving. When people are not driving, there comes a point of "Why am I paying for insurance that I'm not using?"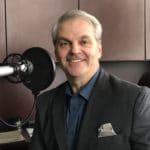 The problem with driving a motorcycle is that if there were an accident, the damage will be much greater than if you were hit in a car. It is important to protect yourself by having a policy set in place in case you were to get hit. Motorcycle coverages are treated differently and viewed differently because Kentucky has a no-fault policy. That means motorcycles will not be automatically covered.
There are 3 coverages that protect you as an operator of a motor vehicle. The first is no-fault coverage, which means your medical bills are covered by the vehicle you're in for up to $10,000 immediately. This could also be loss of wages and other elements. The second is uninsured, which means your company may act like they insured that other driver. Then there is under insured coverage, which means there isn't enough insurance available via the at-fault drivers' coverage.
Uninsured or Underinsured coverage on any automobile or motorcycle policy you have on at least $100,000 per person will give your lawyers the tools they need to work with. You should always prepare for the worse case-scenario. There have been many times where the coverage will not match the damage. Most people had to learn the hard way.  This is especially true when we consider the unfortunate relationship between motorcycles and COVID-19.
On a motorcycle, no-fault (or PIP coverage) is not automatic. In fact, they penalize motorcyclist. You will have to use your health insurance to get everything covered. The law goes on to say that the motorcyclist driver cannot recover the first $10,000 of their medical bills they treat them as if they are uninsured. The passenger cannot recover the no-fault coverage, but they can have their medical bills covered.
If you ride a motorcycle, you cannot assume any aspect of your automobile insurance will apply. There are often exclusions that may be hard to find on the contract regarding whether the coverage also applies to motorcycles.
If you or a loved one is in a motorcycle accident, it's important to document everything. Get the contact information of witnesses and take pictures of the accident and maybe even your wounds. If there is a surveillance camera, it is important to try to get the tape. You have 3 claims you can make in a car wreck/motorcycle accident: property damage, medical bills, and pain and suffering.
Remember the key risk between motorcycles and COVID-19 isn't that you're going to get sick.  It's that the other drivers on the road may have reduced or cancelled their car insurance in an effort to save money.  You are now at a much higher risk of getting stuck with significant medical bills.
For more information about Louisville Personal Injury Attorney Jim Desmond, visit www.AttorneyDesmond.com.
Important Disclaimers:
The information provided on this podcast is for general informational purposes only.  It should not be construed as legal advice and does not constitute an attorney-client relationship.  You should seek the advice of an attorney for guidance related to your specific situation.  I am only licensed in Kentucky and Indiana, so the general advice provided may not apply outside of those states.
This podcast maybe freely shared, but may not be the modified or edited in any way.  This is an attorney advertisement. Principal office is located in Louisville, KY.  Co-host Jim Ray is a non-attorney spokesperson.